THANK YOU FOR MAKING 2006 REFDESK'S MOST SUCCESSFUL
YEAR IN ITS ELEVEN YEAR HISTORY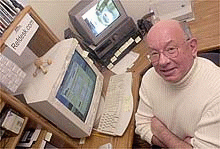 Comments and Testimonials Archive: 2006 / 2005 / 2004 / 2003 / 2002 / 2001

---
Readers' Responses

----- Thank You!

---
"I am a U.S. Soldier, who would like to thank you for the service that you provide. I and my fellow soldiers utilize your refdesk site as a start-up page on our computers in Iraq. Thanks again." - M.M.

"I love you and this site. I can't tell you how many times i reference it, send others to it, and generally make it part of me. You have a great collection of places and things in which I could get lost... ahhh, the temptation! Keep up the good work, and thank you so much!." - J.

"Congratulations on your best year ever! I hope 2007 is even better. I love your site and tell people about it all the time. Sincerely,." - K.M.

"I've been a huge fan of refdesk for several years and use it for my home page,and tell everybody about it, My daughter, who is in collage, has an apple computer, and when ever we go to the apple store in St. Louis or just recently on a trip to Milwaukee, if I am trying out one of the computers and I see a parent with a school age child, I always bring up refdesk on the screen and show it to them to the point of being over zealous. Ive also showed it to most of the clerks also,, and every person Ive shown to has wrote it down or sent the link to their email, also all of the teachers I encounter cant wait to use it. Also when I come across a Web Site Of The Day that I think might be useful to one of the teachers I send a link to the site to them. one teacher that has a two little girls, who doesn't have much spare time, keeps a folder with my name on it, just for the refdesk links that I send her... so this has been a lot of fun for me. by the way I will be sending you my contribution soon..again thank you for this great web site." - J.S.

"It is unfortunate there is no award for refdesk that would be similar to the movie industry's Academy Award; we who use your site almost hourly, would unanimously and annually vote you as the winner. A simple "thank you" is such an understatement for what you have contributed to the business of knowledge and research in the computer industry. You are certainly in a class by yourself. I wish you well." - E.

"Thank you for all your efforts to make this site the most incredible souce of info on the web. I teach graduate school and let my students know how comprehensive refdesk is. Have a healthy, happy new year. Keep up the wonderful work." - N.D.

"It was nice to see the story behind refdesk. Here I had thought it was manned by scores of people. I commend you on an excellant web site. I was shown the site about 3 years ago and now I frequent it several times a day and always recommend it to anyone. If a word has me stumped at work, I pull up your site to find the definition and I enjoy your Words of the Day as well as This Day in History and the other articles. I'm 44 and if only I could get my parents to just try the internet, I am sure they would enjoy your website. Nevertheless, I will continue to use refdesk everyday for work and for pleasure. Thank you again for a very professional, informative and easy to navigate site. You've outdone the others." - D.A.

"Just wanted to say I use Ref Desk as my home page and I think you site it wonderful. Full of a mirage of links and no worry about hitting on a site that is distasteful. I recommend it to people all the time especially if they have children. Keep up the good work." - J.

"I hope you had a Merry Christmas. here's wishing you a very Happy New Year! What an incredible tool RefDesk.Com is! I tell everyone that will listen..about RefDesk. I am always elated to see that you make your donation goal each year. As someone who knows about non-profits, I am always relieved to see my fellow visionaries make their funding goal. I hope 2007 is the best ever for you and RefDesk." - H.T.

"I have had Refdesk set as my home page for several years and it has never disappointed me yet. I also tell everyone about your terrific web site. My only complaint is that you are still using your old photo to identify yourself to your loyal users. Don't get me wrong. The photo is flattering, however, it may be time to freshen it up. In any event, happy new year and thanks for maintaining Refdesk. Colin Powell knows what he's talking about." - P.J.

"Your site is numero uno of all the sites out there. Thanks we love it brother." - W.S.

"I have had Refdesk as my home page since you began it. Thanks for doing such a great job over the years. You are simply the best!" - S.L.

"You're welcome and... thank you for a wonderful home page! :-)" - J.H.

"Thank you also bob,for bringing me to the best webpage i have ever been to." - J.

"I manage a science/technical library for a state agency in Florida. Refdesk is my homepage at work and home, and I promote it regularly to customers, friends, and family as the best one-stop shopping site on the web. Everyone I share it with becomes an instant fan. Thanks, and keep up the great work!" - S.H.

"Thank you for all your efforts in making Refdesk.com a great linking site. I am not in a position to contribute money to anything but I hope some of the many friends I have told about your website will. I use it for my homepage at home and work as it saves bookmarks, links to things I use often, as well as great resources and interesting sites. My favorite is the Newsmax link to the Late Night Jokes, as I cannot always stay up late to watch them. I appreciate being able to read them during lunch the next day. I hope you are able to keep going for a long long time. Good Luck & Happy New Year." - D.M.

" You've done a great job with Refdesk. It is one of the most useful sites on the web. Thank you for the work, effort and expertise that you have put into this website. RefDesk servesw us all in an important, constructive and highly ortganized manner." - V.P.

"Thanks for a wonderful, useful page. I set all my new deployments to it. " - M.S.

"I want to thank you for allowing us to use your web site. I look at it at least twice a day and use the search engines to locate acquaintances. I hope this finds you well and looking forward to prosperous 2007. I will be contributing to the site in 2007. Thank you for your dedication and hard work." - J.C.

"Thank you for a great service. have recommended to many friends, but don't know the extent of their use. as for me, i visit almost daily. 06 has been a tuff year but will $upport you in 07. " - R.L.

"Thank you for having the very best home page with the many threads I use several times daily." - F.

"This is the most amazing webpage ever. I have used this as my homepage for longer than I can remember, and I refer to it constantly. I am a high school teacher and I have my kids use it all the time. Thanks. " - R.S.

"Just a quick note to let you know how much I love Refdesk. I've been using it now for about 3-4 years, and I don't know what I would do without it. As far as I'm concerned, you have cornered the market on reference websites. Keep up the good work! " - N.B.

"As a career secretary (42 years so far), I can appreciate all the hard work you put into keeping your website operational and up-to-date. Thank you from all of us, meaning everyone who uses your site, for spending your lifetime helping and entertaining others. As mentioned in past notes to you, I continue to persuade my friends and peers to use your site at their home page at every opportunity. You're the greatest in my book. I really take my hat off to you. And I think it is especially awesome that you put your picture on your site today. I love it! I've never know what you look like. Now I do." - P.T.

"I started using RefDesk as my homepage since 2000; and, I've always been well-informed, in a timnely fashion, and answers/solutions only a "click away." Thank you for a great site!" - C.E..

"Fantastic work once again! This is and has been my home page for several years. It is excellent." - B.H.

"Thank YOU! I've been using Refdesk since its inception and have turned everyone I know on to it. It's not just my homescreen, it's my everything... There is just nothing like it. I want to congratulate you for having the foresight in making this possible. It really should be cited as one of the Wonders of the World. Thank you, again." - B.M.

"I do not normally do this; but I have looking at your site every day for the last 5 years, I use it all the time and tell all of my friends and family. Keep up the good work - I hope 2007 will be your best year." - H.S.

"Thank you for providing a web site like refdesk.com. I can trust everything on it and I know that I can find anything I want by starting at refdesk. Have a great 2007 and I look forward to continuing to use your services." - K.S.

"Refdesk, my hompage, is a regular part of my daily internet use. I recommend your site to everyone for it contents. It is very beneficial especially for any student. I told my sister about Refdesk and Questia (online library) that I am a member. You have done a great job with the site, much success to you on your future projects. I hope you are enjoying the holidays. Have a Happy New Year good health, be prosperous, stay strong, eat well, enjoy the family and love life." - L.W.

"I have had Refdesk.com as my home page for 4 yrs now. I love it. I have passed it along to many of my friends. I just want to say thank you. You kweep me in touch with the world." - R.F.

"Beautiful site; I use it and donate annually and recommend to friends. Pefect for a journalist, or anybody who wants the best resources w/o the garbage. It helped with my last two books. " - C.R.

"Thank you for having such a wonderful and informative website. I have just about everyone in my work unit, using ref-desk for research, along with turning on my 4 stepchildren to your site for their school work (ages 9-15). I tell them that..."If you can't find it here, chances are you won't find it". I'm a counselor with the State of Washington, along with being a freelance journalist on the side, so your site has come in very handy for my own article research, as well." - R.W.

"I have to thank you for the wonderful site. It is my home page and I use it extensively, I also recommend it to anyone looking for info. If I could I would contribute financially as it is something I truly enjoy and benefit from. I am sure I have only scratched the surface of its potential but look forward to utilizing it more in the future. Keep up the good work and know that you are providing a great service. Have a terrific '07 and if I can help you in any way, let me know." - R.T.

"Thanks for an incredible program that I have installed on all four of my computers! Happy new year to you and all the people that make Refdesk work!" - M.S.

"I have exclusively used refdesk.com ever since I heard about it, which is going on about 7 years now. I Love It!! There is so much information. Knowledge is Power! True, so true. Have a Happy New Year." - S.C.

"I would like to say that this is the most comprehensive page on the internet. I was put onto it about 4 years ago and immediately made it my home page. Everywhere I go that I see someone behind a computer, I ask them to go to it and try it. Hardly anyone ever disregards it afterwards. Keep up the site. Its extremely informative. I always tell people if you can't find it or launch from it, it doesn't exist." - I..

"Refdesk has been my homepage since I've had a computer. I know for a fact that at least 13 other friends of mine do the same. Keep up the good work, you have the single most useful research tool available on the internet." - D.S.

"A friend of mine introduced me to your site last week (on christmas eve of all nights!). I'm a writer and need to be on top of things yet don't have the time to read "everything". Your site is my solution. Congratulations, and more than that, Thanks!" - M.A.

"I'm reading "The Way to Win: taking the white house in 2008 by Mark Halperin. Couldn't believe that Matt is your son. Of course I'd heard of the Drudge Report and even looked at it a few times but hadn't made the connection. How funny is that, that you are both on-line and doing interesting things and having such an influence? Keep up the good work at refdesk.com. It is still difficult to imagine refdesk being done single-handedly, quite an undertaking!" - M.B.

"Thanks for a wonderful place to find everything. You and your son do a great service to us all. Thank you, thank you, thank you!" - G.B.

"Thanks for your good service over the years and for the details on Refdesk's history and current operation. It doesn't seem possible that Refdesk's myriad services could be handled by such a small staff; do you get any sleep? The picture of you, even though baldING like me, made me realize that there are real people running that circus, after all, so I finally contributed a few bucks today. I've used Refdesk for a home page for about seven years now, ever since my son mentioned it as being a site used at his school for quality and ease to access needed data. Their bookshelves, subsequently, were getting dusty. Best wishes to you and yours. Be well and well fed." - R.T.

"I really appreciate all the quality information that you list on refdesk. It is my opening page for the web. Thanks!" - M.P.

"Thank YOU for another year of a great home page/resource. I have not yet helped pay for your site directly but I do recommend it to everyone who asks me where I find the useful and interesting things that I share. Be well and have a healthy and happy New Year." - L.A.

"I am very grateful to you! Every day for at least six years I have used refdesk. It's a fabulous collection of all the references I need. esp. the NYT 'Today in History'. " - J.

"One of the most useful things my husband has ever done for me is to turn me on to refdesk.com. What a wonderful gift to the www and all of its users. I, too, pledge to become a contributor in the upcoming year." - D.T.

"I am not a big time internet surfer, but of all the links and search engines that are out there this site still comes back as the very best that I have ever seen. I really don't ever have time enough to look through all the information that your site has and connects to. I even have Refdesk as my home page. Anyway, Keep up the good work and thanks again for you efforts." - G.

"Thank you for a great website. I can tell you put a lot of time and care into this, and I very much appreciate it. This is probably one of the most useful and relevant websites on the net today." - J.B.

"You are thanking us?! Refdesk is my desktop, have referred it to many friends, and you make me look smart by having ready answers to all sorts of questions. I check it several times a day to get the news...could not do without it." - J.B.

"I use your site often since its early start online, I like your Librarian style the best directory I've seen. Happy New Year." - P.M.

"Refdesk.com has been my hompage for over 4 years. I cannot possibly begin to tell you how much this site has helped me teach my courses. It is too wonderful. Keep it up." - K.

"Refdesk is such a fabulous desktop resource. It would be wonderful to allow customizability for "paid" subscribers, similar to that which Google offers. While I have switched over from Google as my homepage, I miss the dashboard of information that I had configured on my customized Google homepage. Just a thought for how to evolve an already great tool. Happy New Year." - B.W.

"I've had your site as my home page for the past 10 years and recommend your site to folks daily. It's the most comprehensive and user friendly site out there. Keep up the great work! " - D.S.

"Thank you for Refdesk. I love the quotes, the sites of the day, the astronomy section, the World Clock.......so much information! Have a great year!" - S.S.

"I just wanted to tell you : Y'all are awesome! Your site is wonderful! We use it every day, all day. Just yesterday, a big red candle melted all over my pretty white mantel, I looked on your site, "how to clean anything", and there it was, use a towel and warm iron,,, see, just awesome! Thank you and happy new year. " - J.B.

"I have passion for research, and I love your search engine so many people come to me for answers for who,what and where they can get things and you are I show them to use! I work the Main Library for 5 yrs during high school and college this where I started my passion of research. Epilepsy didn't start in my life till I was 30 yrs of age, I have been a independent non-profit for 10yrs and companies like yours help us, Thank you! So many people don't know how to find the answers when they feel the world is against them but I call you the "King of Search Engines" to my members and friends with non-profits, disabilities. If you ever need a BIG mouth, health fairs, state fairs etc... sales is my biggest lifestyles helping each other I love doing. Happy New Year!! thank you again for helping us. " - J.B.

"I know I am one of many and you will probably not be able to get to this, but if so I just want to thank you for the best site on the web. I have had it as my home page for many years. Have a Happy New Year." - R.S.

"Thanks for all you have done for us the last few years, Bob. I know you don't know me and there is a good chance we will never get the chance to meet, but I have been a fan of your site for years. I have taken every opportunity possible to tell everyone people I know about what it has to offer and encouraged them to do as I do and make it their homepage. I sincerely hope that you are able to continue your efforts for many years to come." - L.R.

"Thank you so very much for providing such a terrific website. I use it every day. I have told a great number of friends about it and they, too, have adopted it as their browser's homepage. Please keep up the great work!" - C.

"What a splendid job you do with Refdesk. I recommend it to everyone I know as a best homepage. When I saw your pix on refdesk today, I thought of the following epigram: Experience is the comb life gives you after you lose your hair. –- JudithStearn --- Thank you again for the invaluable service you provide through your webpage and through you son Matt. Both of you are national treasures." - J.M.

"I am a librarian in an elementary school and I have RefDesk as my home page. What an incredible resource it is. My students are amazed by your collection of websites. Thank you for giving us the world at our fingertips in such an organized fashion. Keep up the good work." - K.S.

"Congratulations on your continuing success. Over the years I have pushed people to your site and people who were once intimidated by browser searches found your site to literally open up the Internet for them. Good work." - J.R.

"I've used your site for four years or so and recommend it to everyone that I know. Congratulations on your most successful year. Just one question though, how do you determine your success? $$$? One of the few New Years Resolutions that I'll keep will be to send you $50 in 2007. You sure deserve it. I hope you're getting retirement pay. The money you received in '06 couldn't have come close to taking care of everything. Thanks for all your efforts Bob. There aren't many in this world that can give tremendous effort and get great results too. You're one of the few. I'm a fan of your Son, too. You did a great job with him. Thanks Bob. Just keep up your great work." - B.F.

"Your website has been the source of immense education and reference tools for many, many users and probably is the one site I've told more people about because of the vast array of information available. I've learned so much using it the past two years, signed up for word a day quite some time back, use the websites on the bottom and have given parents lots of the individual websites listed for kids under that link as well as finding out about various information regarding diabetes using the medical/health link, found lots of good recipes and opened some of the first sites that are put out daily which have a wealth of information. Just know you are reaching millions of folks in a positive way and that it's because of your dedicated efforts to keep us abreast of the latest." - C.C.
Home Page
---
[ Search Net ] [ Facts Subject Index ] [ Facts Encyclopedia ] [ Newspapers USA/World ] [ Report Broken Links ]
[ Fast Facts ] [ First Things First ] [ Quick Reference ] [ Site Map ] [ Top of Page ] [ HOME ]
---
REFDESK - COMMENTS AND TESTIMONIALS

Contact Refdesk
&copy 2006 refdesk.com