Looking at Refdesk.com
Colin Powell's Favorite Web Site
By: Catherine Greenman
Copyright 2001 The New York Times
February 8, 2001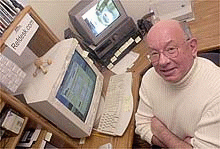 Bob Drudge
Photo by Joey Gardner for the New York Times

If Colin Powell starts throwing books around in his new job as secretary of state, it is not necessarily because of looming chemical weapons threats or infighting with the secretary of defense.

"I live on the Internet," General Powell said. He cited his favorite site: www.refdesk.com. In a free plug for the site, he noted that it was owned by Bob Drudge, father of Matt Drudge, an Internet gossip columnist. The reference site is so comprehensive, General Powell said, he has thrown out all his encyclopedias and dictionaries.

Refdesk (www.refdesk.com), which has more than 20,000 links to dictionaries, newspapers, government sites and many other sources arranged on about 500 Web pages, was created in 1995 by Bob Drudge, who is a former social worker and a child of a librarian and says he learned the Dewey Decimal System before he learned how to walk.

Mr. Drudge, 58, is also the father of Matt Drudge, creator of The Drudge Report Web site (www.drudgereport.com).

Bob Drudge, who lives in Salisbury, Md., bought his son his first computer in 1995, and the son convinced his father to try the Internet himself about six months later.

Refdesk is a meticulous compendium of factual information, and The Drudge Report bases many of its stories on rumor and hearsay. That oddity is not lost on Mr. Drudge. "Only on the Internet could a father and son, independent of each other, capture the attention of a worldwide audience with their home pages," the elder Mr. Drudge said. "We both produce Web pages, but they're so totally different and unrelated to each other, and yet they are related, because we're related."

Mr. Drudge said that to preserve their relationship, he and his son, who lives in Miami, decided long ago not to discuss their Web sites with each other. "We're just focusing on what we do," he said, "not on what other people think or say about either of us."

Although Refdesk contains a link to The Drudge Report, Mr. Drudge admitted to being a bit curious as to why for a long time his son did not include a link to Refdesk on his site. "He said he had no use for Refdesk," Mr. Drudge said. "He hasn't got time to check things out. He's got to hop, hop, hop and move the story." The Drudge Report now contains a link to the reference site.

The link issue aside, there has been no father-son rivalry, Mr. Drudge said, mainly because they have such different work styles.

"Matt's mind goes a thousand beats a second and then the next second there's something else," Mr. Drudge said. "I'm more linear. When I'm pursuing something I really want to get to the bottom of it and get all facets of it. Matt has moved on while I'm still on the first sentence."

Mr. Drudge started Refdesk out of a desire to organize the Internet. "It was a matter of discovering my own scheme of things and then indexing it," he said.

He built Refdesk himself and maintains it daily. It took him about five months to learn HTML programming and to design a template with the various indexes and categories for organizing the links. Because his primary goal was to give visitors fast and easy access to information on other Internet sites, he organized Refdesk to give users a number of ways to get to the pages that he indexed.

Mr. Drudge believes people are very interested in quick access to facts, so he placed links to lottery results, weather reports and Farmer's Almanac reports at the top of the page. Further down the page is a collection of news links.

"One of the biggest trends I've noticed over the last couple of years is that your hometown newspaper is probably online now," Mr. Drudge said, "and it probably offers as much as the print issue or even added value articles that aren't in the print issue."

The site also has a Reference Site of the Day and a Fact of the Day, which are sent by e-mail daily to Refdesk's 35,000 newsletter subscribers. Mr. Drudge said he gets help from volunteers who try to check the links every three months to make sure they are current.

Traditional librarians find Mr. Drudge's attempt to organize the chaos of the Web impressive. "I think it's a really good representation," said Gillian Davis, a librarian at Thousand Oaks Public Library in Thousand Oaks, Calif. "I've heard people say that it can be overwhelming when you first look at it, but there are so many different ways to get at the same things, whether or not you know what you're looking for. The navigation is great."

Ms. Davis noted that there were links to Refdesk at other respected reference sites, including the extremely particular Librarian's Index to the Internet (www.lii.org). "I would probably have arranged it differently, with the reference section up top, and there are some key omissions that bother me, but his selections are good," said Marylaine Block, a librarian in Davenport, Iowa, who has her own reference site (www.marylaine.com).

Mr. Drudge said that he gets about 400,000 page requests a day and that the number increased about 25 percent when General Powell's plug for the site appeared in newspaper articles. As the sole paid employee of Refdesk, he is able to support himself, but his big concern is controlling the cost of maintaining the site as Refdesk's popularity grows and more servers are required to run it.

Some text advertising exists on Refdesk, and Mr. Drudge has arranged for sponsorships from a number of different search engines that he himself feels comfortable using.

Refdesk includes a Google search box for searching the Internet, and, until this month, Mr. Drudge received a penny for every visitor to his site who searched with Google. That agreement has expired. Mr. Drudge said he would continue to try to keep advertising to a minimum. "I consider myself a grass roots site in that regard because I'm never going to be overly commercialized," he said.

At a time when Internet sites with millions of dollars of financing are folding, many of Refdesk's supporters believe grass roots, content-rich sites like Refdesk are necessary if the Web is going to survive. Jerry Hilburn, owner of Catfish Software in San Diego, which makes software for businesses, came upon Refdesk a few years ago and decided to help Mr. Drudge by offering his mailing list program to him free.

"There's a tremendous level of noise out there," Mr. Hilburn said, "and even though the volume gets louder and louder, people are still able to seek out the channels of information they're interested in and stay tuned to that. If there's value in that channel, people will ignore the noise."



---
---
---